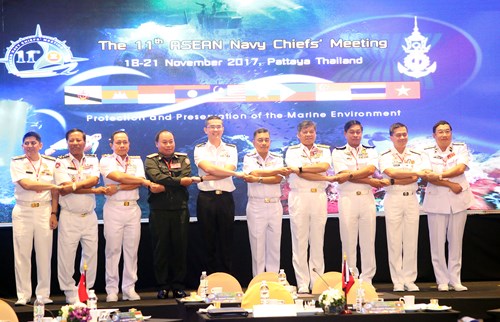 ASEAN navy chiefs pose for a photo at the 11th ASEAN Navy Chiefs' Meeting in Pattaya, Thailand (Photo: qdnd.vn)
The 11th ASEAN Navy Chiefs' Meeting (ANCM-11) opened in Pattaya city, Thailand, on November 19, themed "Protection and Preservation of the Marine Environment", according to Quan doi Nhan dan (People's Army) daily.

Opening the event, Commander-in-Chief of Royal Thai Navy Admiral Naris Pratoomsuwan said the ANCM-11 is an important forum for ASEAN navies to exchange viewpoints, discuss different issues, seek cooperation opportunities, and explore common interests.

It's time for ASEAN navies to reach mutual understanding through diverse activities to increase their coordination capability, and protect and preserve the marine environment, an important issue, he added.

In his speech, Commander of the Vietnam People's Navy Rear Admiral Pham Hoai Nam said the marine environment is facing non-traditional challenges. Four major challenges to the marine environment are pollution from the mainland and the sea, the destruction of marine species' natural habitat, illegal fishing and overfishing, and climate change impacts like natural disasters, storms and floods.

He said it is necessary to exploit and use marine resources in an effective, reasonable and economical manner. Meanwhile, regional countries need to minimise illegal and destructive fishing, address pollution and degradation of the marine environment, and prevent pollution.

Nam also called on ASEAN countries to build marine reserves and climate change-adapted infrastructure while stepping up monitoring of the marine environment to gather scientific information for the sustainable use and protection of marine resources.

Stressing international cooperation in the marine environmental protection and preservation, Rear Admiral Nam expressed his hope that ASEAN navies will have more effective cooperation in this field.

The ANCM-11 is among a series of navy-related events in Pattaya from November 13 to 22. Other activities include the ASEAN International Fleet Reviews 2017 (IFR 2017) and the first ASEAN Multilateral Naval Exercise (AMNEX-1). Vietnam's naval ship 012-Ly Thai To participated in all activities of the IFR 2017 and AMNEX-1.
Source: VNA