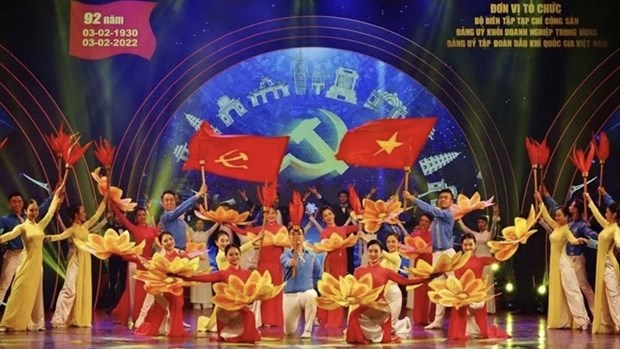 A performance at the event (Photo: the organiser)
An art programme was broadcast live on Vietnam Television and local TV channels on January 16 as part of activities marking the Party's 92nd founding anniversary (February 3, 1930-2022).

With two parts highlighting the Party's good deeds and Party building work, the event treated the audiences to documentary screens and musical performances that reenacted the Party's formation and achievements in national protection, construction and development causes.

On the occasion, leaders of the Party and State presented insignias to 30 Party members with outstanding performance on the frontline of COVID-19 prevention and control.

The Party's coming into being on February 3, 1930, was a great turning point in the history of the country's revolution. Only 15 years later, the Party made the first miracle with the success of the August Revolution in 1945, and subsequently the resistance wars to liberate and defend the nation.

In 1986, the Party launched "Doi Moi" (Renewal) policy, opening up an important era in socialism building in Vietnam, helping the country get out of an economic crisis and become a developing country with orientations to industrialisation and modernisation, deeply integrating into the world and raising the country's position in the region and the world.

To date, Vietnam, with a population of nearly 100 million, has secured a yearly per-capita income of 2,800 USD and joined almost all of the international organisations, becoming an active and responsible member of the international community./.
VNA