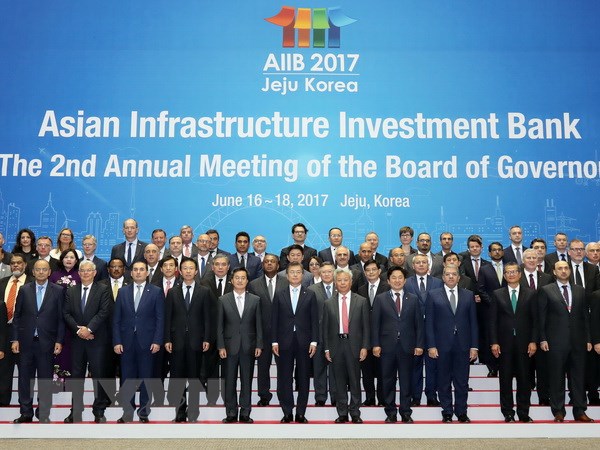 The second annual meeting of the AIIB's board of governorsin 2017 (Source: Yonhap/VNA)
The Asian Infrastructure Investment Bank (AIIB), a multilateral development bank, has helped many Asian countries have better infrastructure, deeper regional integration, and accelerated poverty reduction, said an official from the bank.

According to Supee Teravaninthorn, Director General of AIIB's Investment Operations Department, the bank has mainly focused on promoting sustainable infrastructure, regional connectivity and private capital mobilisation over the last two years.

In the first year of operation in 2016, AIIB approved an investment of 1.7 billion USD for nine infrastructure projects in seven countries, including Pakistan, Bangladesh, Tajikistan, Indonesia, Myanmar, Azerbaijan and Oman, she said.

In 2017, another 2.5-billion-USD investment was approved by the bank for Egypt, Georgia, India, the Philippines, and China, she added.

She noted that for countries in the Greater Mekong Sub-region, AIIB has already financed, approved, or prepared funds for infrastructure projects, including projects to improve energy efficiency and air quality in Myanmar and China.

The bank plans to help Laos implement a project to upgrade National Road No. 13 with an allocation of 40 million USD, she revealed.

AIIB is considering projects related to water resources, energy, and sustainable city development in Vietnam, which are likely to be done in 2018 or 2019, she stated.

As a Beijing-based multilateral development bank, AIIB counts 84 members, rising from 57 at its inception in January 2016. Its main mission is to improve social and economic outcomes in Asia and beyond.
Source: VNA